Publications
The Rise of the Alt-Right in Canada: A feminist analysis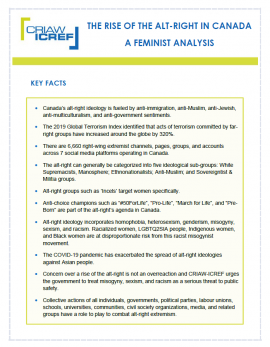 The alt-right has become more visible and better connected – its many groups and channels have been rapidly growing and mobilizing. It is urgent to expose the insidious and overt ways the alt-right pervades our society and to explore how, as feminists, we can and should stand against this hateful misogynist and racist movement.
"The Rise of the Alt-Right in Canada: A feminist analysis" looks at the alt-right using an intersectional feminist analysis and focuses on the context in Canada, from its historic roots to its continued proliferation. This paper also outlines collective actions that we can all take to counter the alt-right movement today.
As feminists, we need to work collectively and deliberately to counter this movement.
---
Other Related Publications