Publications
Everyone Belongs: A Toolkit for Applying Intersectionality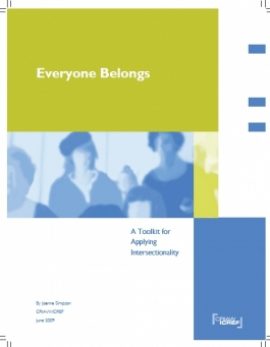 This toolkit was shaped through ideas expressed through CRIAW-ICREF's workshops and focus groups, which explored the practical applications of intersectionality in relation to policy, programs and services, research, and community education. It is written in plain language and offers practical suggestions and tools for applying this perspective within social justice and community organizations.
Everyone Belongs features CRIAW-ICREF's Intersectionality Wheel, a popular visual tool used by researchers and activists to illustrate the concept of intersectionality.
This publication is only available in print for our members and donors. Sign in to your CRIAW-ICREF account to order a copy!